MissionsPlace provides a hosting service designed exclusively for Missionaries and staff of Missions ministries to create and maintain their own website or blog. This free service to you is part of our ministry.
We have two basic goals for this service. One is to get you quickly online and able to communicate your life and ministry to those who follow and support your work. Our second goal is simply to glorify God and see the Great Commission fulfilled by encouraging more missionaries to share their lives, work and what God is doing around the world.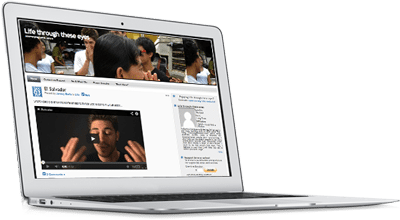 Our sites are easy to set up, easy to maintain, and easy to share with others. And MissionsPlace sites are just for missionaries… so when it comes to the obstacles of communication from the field, we feel your pain. And we have free solutions.
Why choose MissionsPlace over other, less-anointed website services out there?
Free!
Hosted on MissionsPlace.com's secure servers
Tech support from fellow missionaries
Customized templates that reflect your ministry
Built in tools for missionaries, like mapping, online donations, etc.
Connect to other MissionsPlace.com hosted missionaries and missions ministries
Connect with new supporters by making your ministry searchable and browsable by country, or missionary name
Creates an online community of missionaries, ministries, and a single, massive testimony of God at work throughout the world all together in one place
If you are a short-term or long-term missionary, a missions mobilizer, or work for a missions ministry, you can sign up for your free website/blog right now. Once we approve your application, you can choose one of our templates that are designed to reflect various geographic areas of ministry or choose from more than 100 other templates. Many templates allow you to customize your header image with your own picture or logo. It's all up to you. It might help for you to get some ideas from the already active sites linked from the main page here.
Your website can be anything you want it to be. Simple and static informational pages about your family and ministry. Or an active, running blog. You can upload pictures and embed videos if you like. You can link to other websites or the pages of other missionaries. You can open your blog up to comments from the outside. You can even leave the whole site or individual posts hidden and protected with a password if your work is in a sensitive area of the world.
Keeping your personal website maintained is your deal. We'll help you get it set up of course. And we are here if you have questions along the way. But the day to day (or month to month) updates are up to you. No worries though, even this is easy. The sites are built with a simple yet powerful tool called WordPress which powers 25% of all websites on the Internet. This allows you to have a backdoor entrance into your site. Here you will find familiar tools (similar the text editor in Microsoft Word) to make changes and add content to your pages.
Let's Get Started!
Ready to create your  free professional ministry website and connect with your supporters like never before?
Frequently Asked Questions
What does this cost?
It's free, and we plan for it to always be. Why would we charge money for something you can get for free on the internet anyway? We'd rather have you networked and connected with other missionaries than hosting your site somewhere else, so we can help further the Great Commission.
After you are enjoying your free missionary website, you may want to consider becoming a Supporter to gain even more great features. If you want the Supporter features but have no money (missionaries rarely have much), your supporters and website visitors can choose to sponsor your website instead! You don't even have to do anything, we take care of it all. We'd rather your supporters foot the bill anyway.
I'm not a computer geek, can I really do this?
Absolutely! We built MissionsPlace.com around the very popular WordPress engine, which hosts millions of blogs for people who aren't necessarily web-savvy. We chose WordPress for its flexibility and simplicity! We even have HD full-screen tutorial videos to help you get started in no time!
The truth is, if you have the most basic of computer skills, and a interest in communicating your ministry beyond the scope of a couple printed newsletters each year, then you're almost there. For those of you who send regular email updates to supporters, you are effectively (but not efficiently) blogging already.
What if I already have a website/blog?
Great! We'd encourage you to transfer your site to MissionsPlace so you can be networked and connected with missionaries around the world. Once you have your site, there is a 1-click process (Tools->Import) that will transfer all your posts and photos from your previous site.
Who can signup for a free website?
MissionsPlace is all about networking and connecting missionaries. Whether you are in Asia, Africa, Europe, or anywhere else on the planet, if you are a short or long-term cross-cultural missionary or ministry, this site is for you!
Sorry, we do not allow websites for churches or other ministries unless it is specifically for cross-cultural evangelical ministry. You will also need to agree to Terms of Service and basic Doctrinal Statement.
Can I restrict who can see my site?
Yes. We have multiple privacy options. You can restrict any page or blog post with either a password, or requiring people to "sign in" to your site to see it. The same goes for allowing people to comment on your pages or posts, you can decide how you want that to work: not allowing any comments, letting you moderate the comments that come in, or allowing open commenting.
What kind of Internet connection do I need?
While setting up your site, you might need at least a dial-up connection and some patience. After you site is set up the way you like it (you've chosen the template you like, entered some information about yourself and your ministry), you can post to your site using very little bandwidth. Because your website/blog is based on WordPress technology, you can even use free software like the WordPress iPhone app to write and edit posts for upload later.
Can I upload photos or video?
Yes. Every site has a generous amount of storage space to start with that you can use for photos, pdf files, Word documents, whatever you want. Before you go crazy and upload all your photo albums, check out our posts for ideas about using Flickr/Picasa and YouTube/Vimeo and other photo/video sharing services on the internet.
How can I get help?
We're here to help! MissionsPlace is dedicated to putting the latest and greatest technology in the hands of missionaries like you. We built this site for you, and we are here to support it and train you in using it!
Signup Now!
Come to a decision? Go ahead and give us a try, it's free after all!
More Questions?
If you still have questions about our services just let us know!