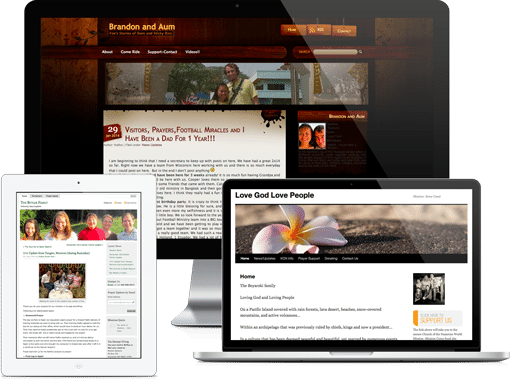 We provide a free hosting service designed exclusively for cross-cultural Missionaries and staff of Missions ministries to create and maintain their own website or blog. This free service to you is part of our ministry.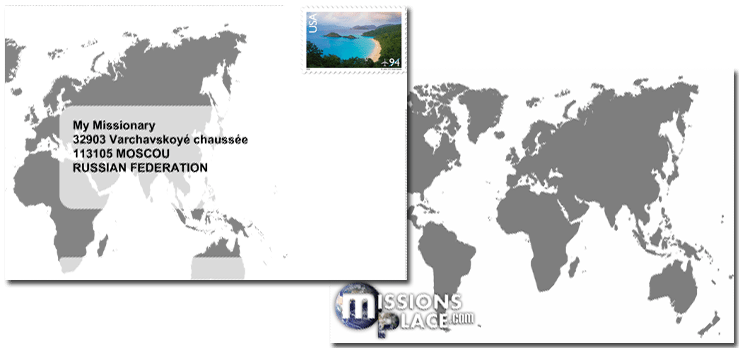 Send a quick, beautiful, and super cool letter to your missionary! MissionAirmail was created to put the fun back in traditional letter writing in this age of Facebook and email.
MissionsPlace is dedicated to enabling missionaries and their supporters to more effectively reach the last of the lost by providing instruction on a Biblical and strategic view of missions, and by making the latest technologies accessible and affordable to every missionary.
Our Free Missionary Websites Include:

150+ Themes
Select from over 150 amazing themes to customize the look and feel of your website with one click! You don't have to be a designer to make your ministry look good! Just pick a theme, add your custom header image, and you're done.

Simple Content Tools
Create unlimited pages like "Ministry Info", or "Contact Us" with a simple visual editor and organize them into custom navigation menus. Start a blog to share your latest news updates and prayer requests with supporters.

Impactful Media
Share those beautiful pictures from your latest missions trip in galleries or slideshows with simple drag-and-drop uploading. Embed your video updates from popular services like Vimeo or YouTube.

Email Subscriptions
Write you're newsletters once for the web and have all your supporters notified by email. You can maintain your email subscriber list right in your site. We even let you import or export your subscriber list via a CSV file!

Online Donations
Make support-raising easy by collecting online donations with our built in fundraising tools! Your supporters can give to you right on your website via a number of payment gateways and no technical knowledge on your part.

Visitor Stats
Get easy to read statistics about your site right from your dashboard. See information about your visitors and popular content on your site. Or enable Google Analytics for free enterprise-class statistics on your site.

Powerful Privacy Tools
We understand the unique security needs of missionaries. Keep your site out of search engines, hide behind a shared password,  or even setup your supporters with individual logins to view your site.
What Our Missionaries Are Saying…
Greetings to you in the gracious name of our Lord and Savior Jesus Christ! Great thanks to you for your act of kindness by providing a free website for our ministry in Manipur. God bless you and your ministry richly.
Thanks for posting the link to kayak.com – I was able to use it today to help a missionary find a great price within seconds for her ticket back to China. Her random search rendered the lowest fair at $2000, mine $755. Before you shared this, I would have spent hours searching and agonizing over finding the best fare. It was exciting!
A travel tip that you had on the website helped us save $6,000 on our tickets to Equatorial Guinea! Every website we went to gave us the price of $10,000 for 5 tickets and through your tip we got all 5 tickets for $4000. We were so excited!!!!
Featured Missionary Sites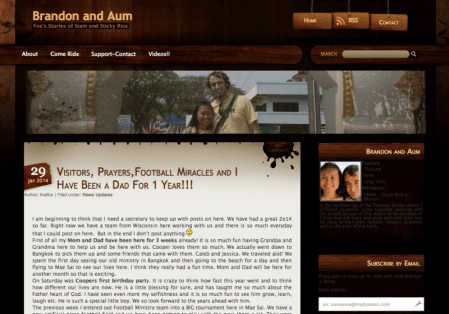 Fox's Stories of Siam and Sticky Rice Adventures of YWAM missionaries in northern Thailand. Country: Thailand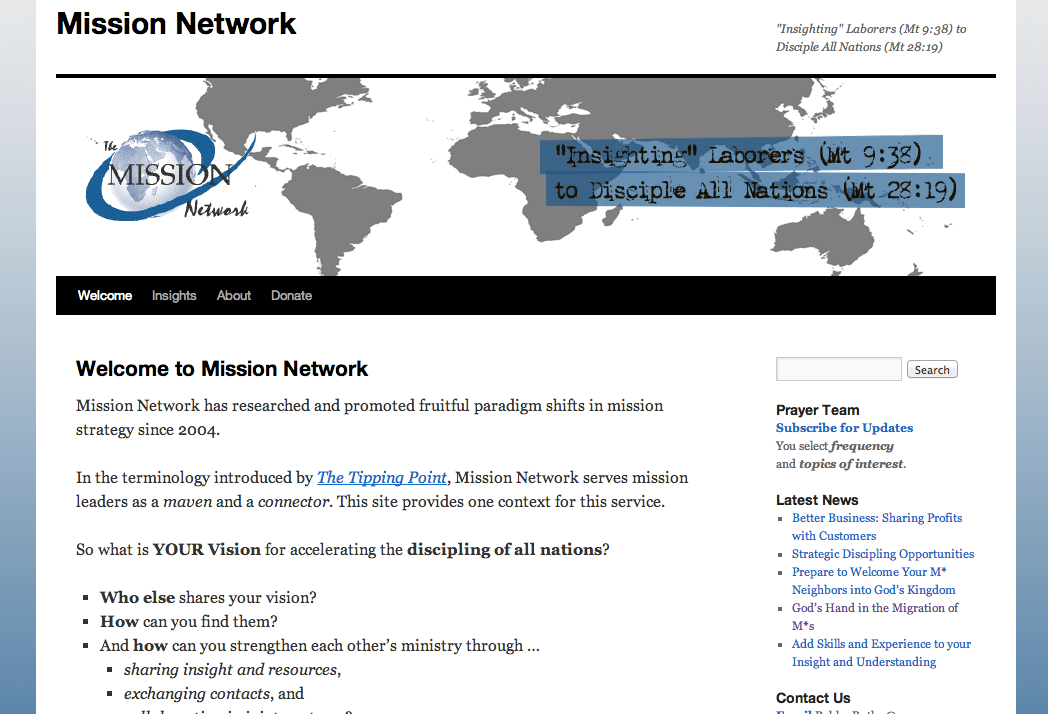 Mission Network has researched and promoted fruitful paradigm shifts in mission strategy since 2004. It serves mission leaders as a maven and a connector. This site provides one context for this service.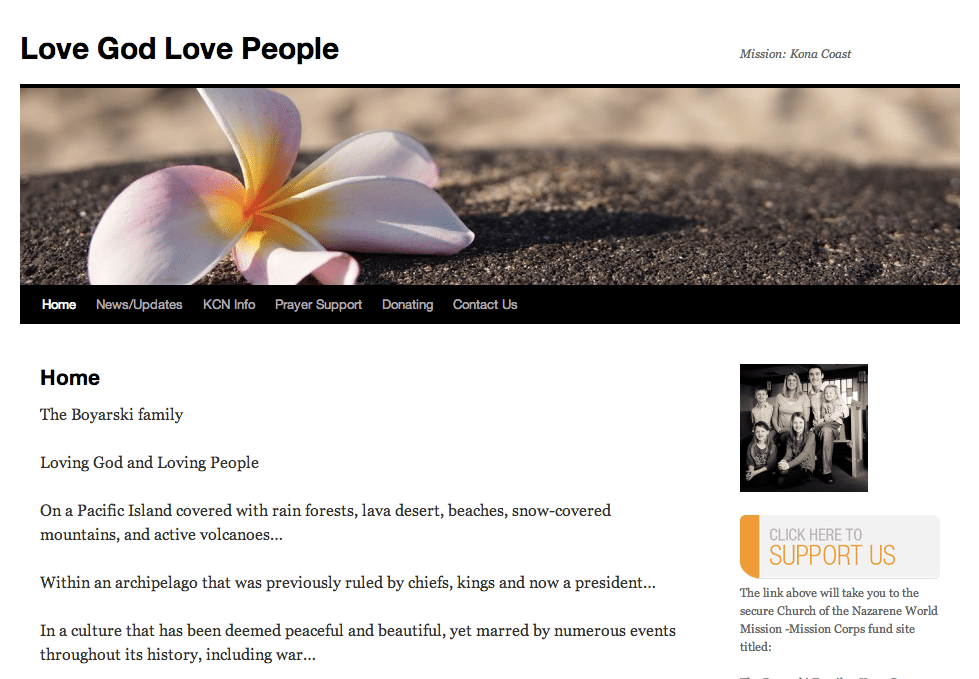 The Boyarski family Partnering with an already established, thriving church community, Kona Coast Nazarene, in reaching the unreached along the west coast of the Big Island of Hawaii.
Getting Started is Easy!
Hit the ground running with our simple video tutorials and in depth contextual help on every admin page. But our system is so intuitive you may not even need those!
Watch Tutorials

10%

10%

Add Content

80%

80%

You're Online!

100%

100%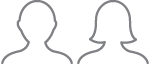 MissionsPlace is founded and run by missionaries. It is our ministry to help you, so when you need technical support just drop us a line and know you are not dealing with a faceless corporation.
Signup Today For Your Free Website
If you are a Missionary why not create your website today? Connect with your supporters like never before. It's free after all!
Undecided?
Still not sure if MissionsPlace is right for you?